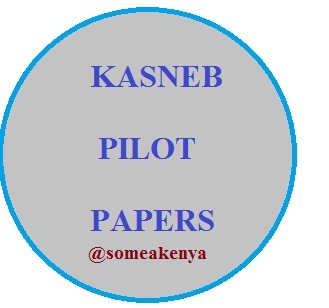 ---
what are pilot papers?
Pilot papers are model examination papers set by the examining body to show how the real final examination will be set. in terms of structuring the questions and allocation of marks to questions.
KASNEB only releases pilot papers after the major review of syllabus.
when does the change of syllabus occur?
KASNEB reviews their syllabus in two ways.
Mid-term review

Major review
under the new syllabus Mid-term review will be carries every year unlike previously where it used to be done after every two and a half years immediately after the release of the new syllabus. Mid-term reviews do not affect the syllabus much as only a slight change of the content of the syllabus is reviewd. e.g change or introduction of some topics in the existing topics and maybe removal or addition of 1 or two topics in a syllabus.
Major review of the syllabus occurs after every 5 years and this is when pilot papers are released, This may entail an additional of new subjects, removal of some subjects, an introduction of new courses, removal of some courses, introduction of new examination rules, new fee structure among other new major changes.
The following are Pilot papers that KASNEB released in the year 2015 after the major review of the syllabus
PROFESSIONAL COURSES
DIPLOMA COURSES