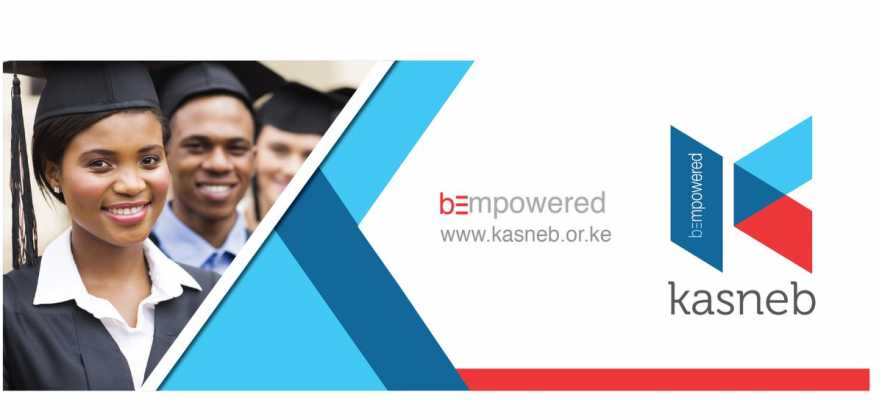 Click on the student login link  then choose the student icon or proceed to click the student icon if you use the direct link (http://online.kasneb.or.ke ) to the student portal. (Note: creating a new account will require you to use a computer not a phone browser, existing accounts can be updated using phone browsers)

Click on create account and select whether you have Student Registration Number or not and proceed to provide names, preferred email address and a strong password (which will be used for future access to self information) and click save.

Provide the email address and password used when creating the account and click unlock to login in.

Select the "

Registration Details

" tab.
Access the "

Course Choice

" tab.
Select the examination from the dropdown box, click on the "Yes" checkbox and provide the registration number without the prefix (e.g. if your registration number is

NAC/68148

, provide

68148

as the registration number) and click save.
Note:
If you have an account but you forgot forgot your password, you can recover it by clicking on forgot password button

In case you already have an account and you forgot both password and the email you used or you no longer have access to the email you created the account with, just create a new account using a new email account




https://www.someakenya.com/kasneb-notes/cpa-past-papers-free-download-kasneb/
PLEASE NOTE THE FOLLOWING:
1. Students are required to Log into the web based e-kasneb portal using the link: http://online.kasneb.or.ke
OR
Download the KASNEB app from android play store for easy access to e-kasneb services. (For those using the App, if the downloaded timetable fails to open, go to playstore and Download Document viewer and after installing it open it and go to download folder. That way you will be able to open it)
2. Students are required to create an account AFRESH, fill in the details and sign up. The password should have a minimum of 8 characters.
3. Students can access more information on e-kasneb using the link: http://kasneb.or.ke/wp-cont…/uploads/…/03/e-kasneb-flier.pdf
KINDLY NOTE THE FOLLOWING:
1. After successful sign up in the NEW e-kasneb application, you are required to activate your account via your email address. Go to your email address and select the message "KASNEB ACCOUNT VERIFICATION". Click on the link to activate your account.
2. ACTIVATION OF ACCOUNT SHOULD BE DONE WITHIN 24 HOURS. If the token has expired, reset your password and log in again.
3. If you are a student with a registration number, you are required to register under "STUDENT WITH REGISTRATION NUMBER" not as a "NEW STUDENT".
Students with registration numbers who had already registered under "NEW STUDENT" are required to register afresh under "STUDENT WITH REGISTRATION NUMBER" using a different email address.
4. For NEW students registering for the first time, ensure that the information you have provided while signing up is correct. (Names, email address, phone number and national ID number)
5. For "STUDENTS WITH REGISTRATION NUMBERS", ensure that the information you have provided while signing up is correct (registration number, email address and phone number ).
6. PLEASE NOTE THAT IF YOU PROVIDE INACCURATE INFORMATION , YOU WILL BE UNABLE TO ACCESS YOUR ACCOUNT.
For any issues regarding your account on the new student portal e-kasneb. Vist or use any of the following contact method to get in touch during working hours.
KASNEB Towers, Tel: 020 2712640, 020 2712828
Mobile: 0722201214, 0734600624
Email: info@kasneb.or.ke
Facebook: KASNEBOfficial
Twitter: @KASNEBOfficial
HUDUMA CENTRE KASNEB MOBILE NUMBER
Kibera, Nairobi 0701698149 0737018536 awandeto@kasneb.or.ke
Nyeri 0701698213 0737256315 akimani@kasneb.or.ke
GPO, Nairobi 0701699013 0737315992 cmakutwa@kasneb.or.ke
Meru 0701699017 0737422739 cndwiga@kasneb.or.ke
Kisumu 0701699026 0737492586 cokomo@kasneb.or.ke
Mombasa 0701699078 0737516847 ewere@kasneb.or.ke
Kisii 0701711465 0737543023 emasese@kasneb.or.ke
Makadara, Nairobi 0701713039 0737618421 mgwaye@kasneb.or.ke
Eldoret 0701713366 0737831524 trotich@kasneb.or.ke
Nakuru 0795431440 0735031908 mlangat@kasneb.or.ke