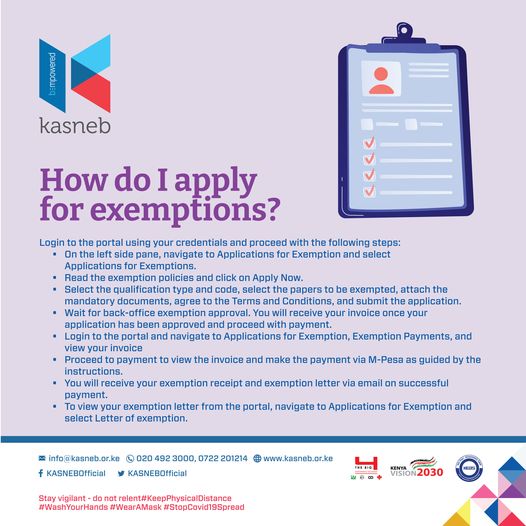 Login to the portal using your credentials and proceed with the following steps:
On the left side pane, navigate to Applications for exemption and select Applications for Exemptions.
Read the exemption policies and click on Apply Now.
Select the Qualification type and code, select the papers to be exempted, attach the mandatory documents, agree to the Terms and Conditions and submit the application.
Wait for back office exemption approval. You will receive your invoice once your application has been approved and proceed with payment.
Login to the portal and navigate to Applications for Exemption, Exemption Payments, and view your invoice
Proceed to payment to view the Invoice and make the payment via MPesa as guided by the Instructions.
You will receive your exemption receipt and exemption letter via email on successful payment.
To view your exemption letter from the portal navigate to Applications or exemption and select Letter of exemption.